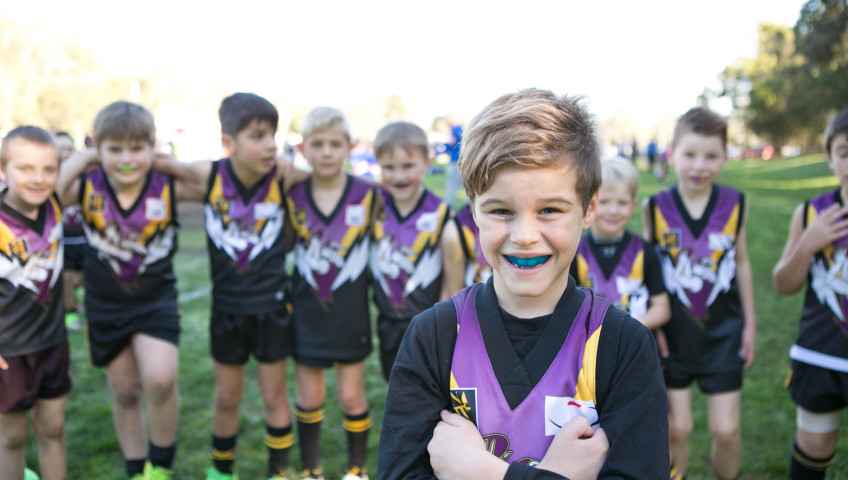 No mouthguard, no play
Will your club say 'No Mouthguard, No Play' this season?
Sporting clubs around Australia are being encouraged to protect their players and sign up to the new 'No Mouthguard, No Play' policy, an innovative collaboration between the Australian Dental Association (ADA) and Sports Medicine Australia (SMA).
According to Dr Peter Alldritt, Chair of the ADA's Oral Health Committee, every year thousands of people are treated for dental injuries that could have been avoided by wearing a protective, custom-fitted mouthguard.
With this in mind, we examine the top seven reasons why clubs and schools should make wearing a mouthguard compulsory during sport games and training sessions.
The hard work is done – two of Australia's leading health organisations have collaborated to develop the 'No Mouthguard, No Play' policy to enable sporting clubs and schools to easily sign up and enforce mouthguards for their players.
A custom-fitted mouthguard protects more than just teeth – it helps absorb and spread the impact of a blow to the face, preventing jaw fractures, facial lacerations, concussions and base of skull injuries. It is more comfortable and offers more protection than an over-the-counter store bought mouthguards.
Coaches need protection too – a study of junior rugby league players on the Gold Coast revealed that over 90% of coaches have had to deal with a player injuring their face or teeth; and for almost half of them, it has occurred more than five times!
A mouthguard is cheaper than an injury – a custom-fitted mouthguard starts from $69, considerably less than replacement teeth as West Coast Eagles AFL player Elliot Yeo found out. Repairing a small chip to a tooth costs between $150 and $200 and an implant to replace a knocked out front tooth can cost over $4,500.
It's easy to get your players fitted with a mouthguard – register now for our Sports Mouthguard Van to visit your Melbourne school or club's training, registration, presentation or photo session (or any time that suits you!).
Contact sports can pack a punch – wearing a mouthguard is a no-brainer during contact sports such as football, rugby, boxing and martial arts.
It's not just contact sports where teeth are at risk – mouthguards are also highly recommended in collision sports where stray elbows, balls and pucks can do serious damage – this includes baseball, basketball, BMX bike riding, cricket (wicket keeping or batting without a helmet), hockey, horse riding, in-line skating, lacrosse, netball, skateboarding, snow ski racing, soccer, softball, squash, trampolining, water polo and water skiing.
Give yourself peace of mind this season and protect your players by implementing a 'No Mouthguard, No Play' policy.