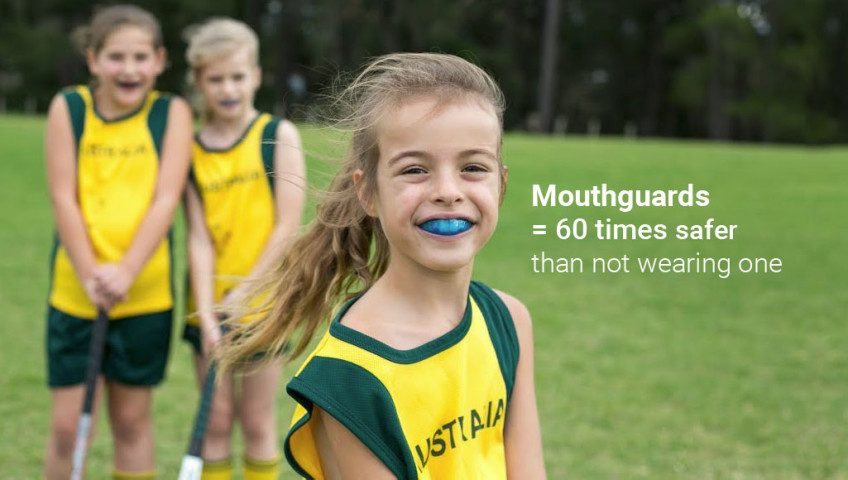 Fact: Mouthguards are 60 times safer than not wearing one
Safety – as parents, it's one of our primary concerns for our children.
The simple act of wearing a custom-fitted mouthguard while playing sport will mean our child is at least 60 times safer. [1] That's 60 times, not 6 or 10, but 60! Yet, only 1 in 3 children wear one while playing sport.[2]
Often this is because they have an uncomfortable 'boil and bite' mouthguard that is not as effective or safe as a custom-fitted one from a dentist.
Recent media reports have highlighted the horrific injuries incurred when a custom-fitted mouthguard is not worn during contact or collision sports such as soccer, basketball, football and hockey.
A sickening clash left Newcastle Jets goalkeeper Mark Birighitti, who wasn't wearing a mouthguard, facing severe dental surgery after losing several teeth and needing 40 stitches.
Perth Wildcats basketballer Damien Martin copped a rogue elbow causing him to break his jaw and lose three teeth.
An over-the-counter 'boil and bite' mouthguard offered hockey player Christina Johnson little protection when she was hit in the mouth with a hockey stick.
"Boil and bite mouthguards often don't fit correctly, particularly high up in the lip area," said Dr Caitlin Oakley, founder of Wear a Mouthguard.
"This means a knock to the mouth can cause severe trauma to the lips and bone – the part of the mouthguard that is ill-fitting or sticking out high up in the lip focuses the force into that one area rather than distributing the force throughout the mouthguard."
Victoria's emergency departments treated at least 2000 dental injuries like these three between 2002 and 2004, with hundreds more seeking treatment at dentists and dental clinics.
Parents often tell us that their kids simply don't want to wear a mouthguard – this is often because their experience has been with cheaper, over-the-counter models that are uncomfortable and annoying to wear.  Mouthguards made by a dental professional have a snug fit, allowing players to breathe and speak more easily. And if you do cop an accidental elbow to the mouth, they definitely offer more protection.
Remember, wearing a mouthguard is 60 times safer than not wearing one so please don't risk it!
[1] ADA Inc., March 2013, The fabrication, use and maintenance of sports mouthguards a revised edition of Standards Australia/ADA Inc. publication: HB 209-2003 Guidelines for the fabrication, use and maintenance of sports mouthguards
[2] ADA http://www.mouthguardawareness.info/about-mouthguards.html