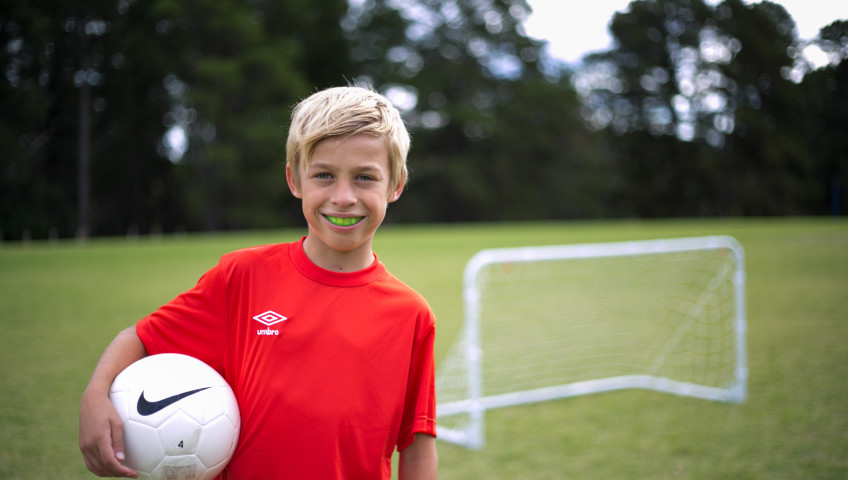 Custom-fitted or 'boil and bite' – an open letter to parents
An open letter to parents trying to decide if a custom-fitted mouthguard really is worth it from Wear a Mouthguard founder Dr Caitlin Oakley
Dear parents,
Breakfast, pack lunches, school drop-off, work, basketball training, dinner, dishes, homework, housework, sound familiar? I know how time-poor we parents are!
But I beg you, please take a few minutes to read this blog before choosing to 'protect' your child's precious teeth with an inferior mouthguard from the chemist (as a dentist and parent of two sports-mad kids, I'm seeing too many dental, facial and head injuries in young sports players, injuries that could be avoided with a custom-fitted mouthguard)
So, really quickly, mouthguards custom-fitted by a dental professional:
Are safer and more comfortable than shop-bought 'boil and bite' mouthguards.
Are 60 times safer than not wearing a mouthguard.
Are cheaper than a dental injury – our mouthguards start from $79 compared with repairing a small chip to a tooth for up to $150 or more.
Can be claimed on private health insurance under item 151 – many funds offer mouthguards for free or refund most of the cost (call your fund to find out)
Help absorb and spread the impact of a blow to the face, helping avoid jaw fractures, facial lacerations, concussions and base of skull injuries.
Protect your child's precious baby teeth, which are very important as they save space for the adult teeth and help guide them into position
Parents are sometimes concerned about purchasing a mouthguard when their child's baby teeth are being replaced by adult teeth – where possible, we make allowances for obvious tooth movement in the design of the mouthguard, which means it will fit for longer.
If your school has already organised a visit from my sports mouthguard van and friendly team of dental professionals, simply complete this order form and return it to your school.
And if it hasn't, ask them why. After all, the Australian Dental Association and the Department of Education recommend custom-fitted mouthguards for contact and collision sports such as basketball, soccer, netball, hockey, martial arts, football, and BMX riding. (In fact, the Australian Dental Association says that 'boil and bite' mouthguards can do more harm than goodbecause they move around in children's mouths)
Low prices, convenience and fast turnaround make our high quality mouthguards a great choice!
We promise to have the mouthguard returned to your school within two weeks.
If you have any questions, drop me a line or call us on 1800 MOUTHGUARD (1800 66 88 44)
Kind regards,
Dr Caitlin Oakley, Dentist