So which sports mouthguard should you choose?
Single Guard $79 plus GST
Available in clear, black or white, this mouthguard is a single layer mouthguard that is stronger than over the counter boil-and-bite mouthguards but thinner than laminated mouthguards. A good starting point for younger players of sports such as football, basketball, hockey or soccer who need a good protective mouthguard. 
Single layer

Stronger than store bought

Name label not included

Three colours
Double Protect $119 plus GST
The Double Protect is available in a wide range of single colours. This slim double layer laminated mouthguard provides excellent protection. The players name is included on a label between the laminated layers help guard against loss. Slightly less bulky than our top of the range three-layer mouthguard, the Double Protect offers great value for those playing contact sports and competing at a high level.
Double layer laminate

Stronger protection

Includes player's name

Available in a wide range of popular colours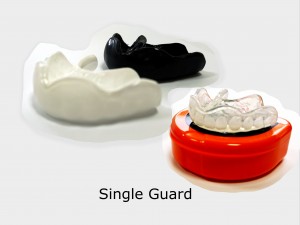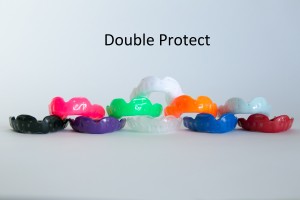 Triple Max $219 plus GST
Best protection for all sports and ages
This three-layer laminate mouthguard offers the best level of protection for players of all ages and sports.
Available in a wide range of single, double and triple colour combinations. Download our Order Form to see our extensive colour range.
Triple layer laminate

Strongest protection

Player's name included

Choose from single, double or triple colour combinations!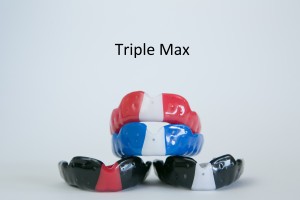 We offer 'same season' peace-of-mind by providing free adjustments. Just call to arrange a time to pop in.
Orthodontics $239 plus GST
Advanced design for players with braces or orthodontic appliances.
Essential protection that protects players from the increased risk of mouth lacerations. Available in any single colour choice from our range.
Advanced design for orthodontic protection

Triple layer

Named

Stronger than over-the-counter mouth guards

Choose any single colour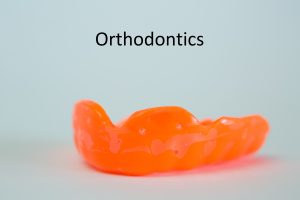 All our mouthguards are made using high-quality FDA-approved product, which is rigorously tested to international ISO guidelines. Unlike some cheaper products, our mouthguards do not contain irritants or toxic materials so they are kind to your child's teeth, gums and cheeks while providing the best possible protection.
Contact sports such as football are safer with a mouthguard
Protect your children, teenagers and young adults before they step onto the football field or baseball diamond. The Wear a Mouthguard™ program provides a fast, efficient way to get kids fitted for mouthguards. Phone 1800 Mouthguard or contact us online.